1. Market Leaders
When selecting stocks, focus on market leaders rather than laggards. 
Only invest in businesses that you understand. If you are not confident in your ability to separate the good from the bad then use a stockbroker's or financial advisor's recommendations. Alternatively, consider investing in a good growth fund and switch in/out with the primary trend.

Use the Stock Screener to compare the relative performance of all stocks over the past 12 months. Analyze the top 10 per cent:
Have sales and earnings per share grown strongly over the past 3 years? 

Have sales and earnings per share growth accelerated in recent quarters? Be on the alert for cost reductions and layoffs that may enhance short-term performance at the expense of long-term growth.

Look for sustainable competitive advantage and strong growth prospects. 
Does the company have a competitive edge? Examine their products or services: do they have better technology; stronger brands; copyrights or patents; or greater expertise; that gives them an advantage over competitors? 

Use the Stock Screener to identify the industry sectors that show the best relative performance. Select stocks from top industry sectors:
Look for two or more market leaders in the same industry sector.

Compare the relative performance of industry sectors over the last 3 years and look for market leaders from these sectors. 
Select stocks that are clear of major resistance levels. Look for market leaders that have recently made new highs or turnarounds that are well below major resistance levels.

Example
Charles Schwab is charted below with   weekly Price Ratio showing performance relative to the S&P 500.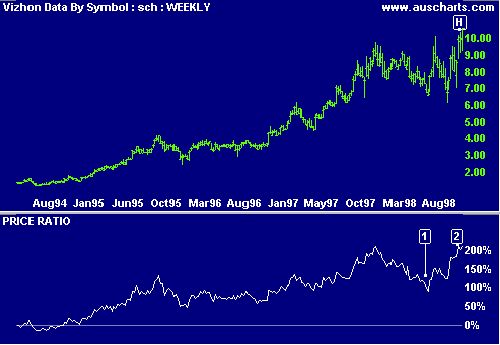 Securities Brokers were one of the leading industry sectors in the 90's. Charles Schwab reached a new high on 20 October 1998 on the back of strong earnings growth.
The Price Ratio, depicting stock performance relative to the S&P 500, fell sharply during the mid-1998 correction [1].
Price Ratio recovers sharply in the third quarter [2], making a new high [H] on 20 October.
[ Next ]