4. Entry & Exit Signals
The merits of the different oscillators are discussed at Momentum Indicators. It is also possible to use an oscillator such as the Money Flow Index or MACD to time your entry points. In fact, some analysts do not use indicators at all and base their entry points on breakouts above resistance levels.
Set the Indicator Time Frame to suit the cycle being traded. There is a trade-off between indicator responsiveness and reliability: a very short time frame may provide earlier, but occasionally incorrect, signals. Trailing stops help to compensate for this.
Trailing Stops are useful for weeding out premature or false signals and help to alleviate some of the psychological pressure on traders - by providing automatic entry and exit points.
Charles Schwab with   7-day and   150-day exponential moving averages and    7-day relative strength index.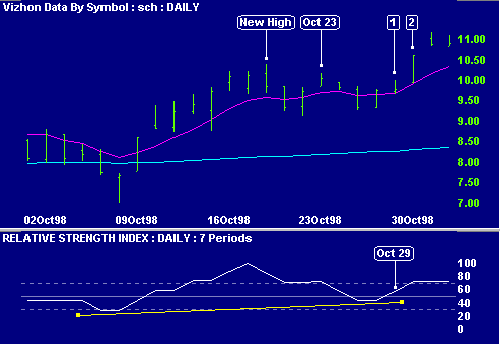 Favorable trading conditions (from Steps 2 & 3) commence on October 23rd. Shortly thereafter the RSI crosses to below zero and turns back above the zero line, giving a signal to go long [Oct 29]. The signal is strengthened by a failure swing, shown by the trendline.
Place a buy stop order above the High on the signal day [1].
We are stopped in on day [2] when price rises above the High of the previous day. By the close the stock had formed a new High, surpassing the High of October 20th.