Link for this issue: https://tradingdiary.incrediblecharts.com/2023-10-12_whats_new.php
New Stock Screen Filters
In response to requests and feedback, we have added

filters for:
Moving Average Oscillator
Trailing Stops

Average True Range
Percentage
New filters:
Moving Average Oscillator
The Moving Average Oscillator reflects the variance between price and the moving average as a percentage.
Value Filter
Identify Minimum or Maximum values. Use the MA Oscillator in conjunction with filters for Moving Average crossovers.

Amgen (AMGN) below is a large cap stock in the Dow Jones Industrial Average, so overbought/oversold levels are set at 5%/-5% for the 21-day MA Oscillator.
The light green arrow indicates an entry signal (long) but price is still below the 100-day MA, suggesting a tentative up-trend. Dark green arrows indicate long entry signals where price is above both the 21-day and 100-day EMAs. The orange arrow indicates an exit signal when the MA Oscillator crosses from above to below the 5% overbought level.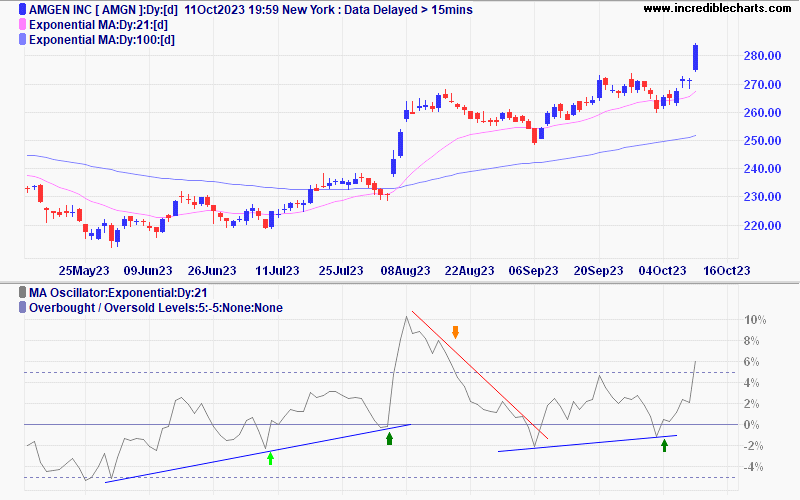 Trailing Stops
We have added new filters for Average True Range and Percentage Trailing Stops as new filters.
Average True Range Trailing Stops
ATR Trailing Stops are primarily used to lock in profits on individual trades but they can also be used, in conjunction with a trend filter, to signal entries. Use the new filter to identify Entries and Exits.

The chart below depicts a 21-day trailing stop at 3 standard deviations, with signals based on high/low cross. The green arrow indicates the entry (long) signal and red arrow the exit signal.
Percentage Trailing Stops
Percentage Trailing Stops is a simple trend-following system that trails a stop loss at a set percentage above/below the current price, depending on trend direction.
The chart below shows a 10% trailing stop, with signals taken from closing price (crossing the stop). The green arrow indicates the entry (long) signal and red arrow at the exit.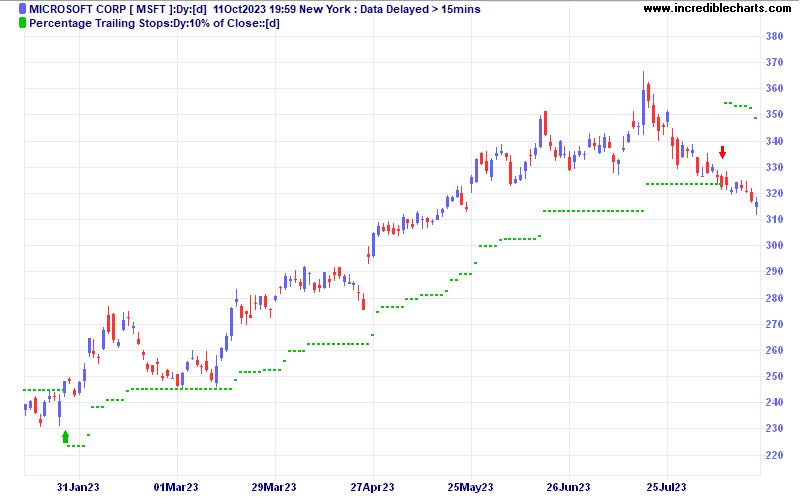 We hope that you find the changes useful. We are constrained by the number of filters we can add but will welcome further feedback or suggestions.
Regards,
The Incredible Charts Team
---
Everything contained in these newsletters, related websites, training videos and training courses (collectively referred to as the "Material") has been written for the purpose of teaching analysis, trading and investment techniques. The Material neither purports to be, nor is it intended to be, advice to trade or to invest in any financial instrument, or class of financial instruments, or to use any particular methods of trading or investing.
Advice in the Material is provided for the general information of readers and viewers (collectively referred to as "Readers") and does not have regard to any particular person's investment objectives, financial situation or needs. Accordingly, no Reader should act on the basis of any information in the Material without properly considering its applicability to their financial circumstances. If not properly qualified to do this for themselves, Readers should seek professional advice.
Investing and trading involves risk of loss. Past results are not necessarily indicative of future results.
You, the Reader, need to conduct your own research and decide whether to invest or trade. The decision is yours alone. We expressly disavow all and any liability to any person, with respect of anything, and of the consequences of anything, done or omitted to be done by any such person in reliance upon the whole or any part of the Material.
---
Archive
To access past What's New updates, go to the Trading Diary Archive and use the drop-down to filter the list.
Give me six hours to chop down a tree and I will spend the first four sharpening the axe.

~ Abraham Lincoln