Twiggs® Smoothed Momentum
Twiggs Smoothed Momentum is a smoothed version of the proprietary Twiggs Momentum oscillator. Its purpose is to provide a slower, less erratic signal for following long-term trends.
Twiggs® Proprietary Indicator
Twiggs Momentum Oscillator and Twiggs Smoothed Momentum are proprietary indicators developed by Colin Twiggs.
Twiggs Smoothed Momentum's primary use is to determine trend direction:
Values greater than zero indicate an up-trend.
Values less than zero indicate a down-trend.
Divergences from the price chart may also warn of trend changes.
Twiggs Smoothed Momentum may also be used for stock selection when trading momentum:
Stocks with the highest momentum values (e.g. the top 10) are selected.
Stocks are discarded when their momentum values decline outside of the top ranking (e.g. the top 10).
Twiggs® Momentum compared to Twiggs® Smoothed Momentum
A weekly chart of the S&P 500 index illustrates the difference between Twiggs Momentum and Twiggs Smoothed Momentum. While Twiggs Momentum reacts faster it is more prone to whipsaws. In the past year there are 3 trend changes (above/below zero) for Twiggs Smoothed Momentum compared to 9 for Twiggs Momentum.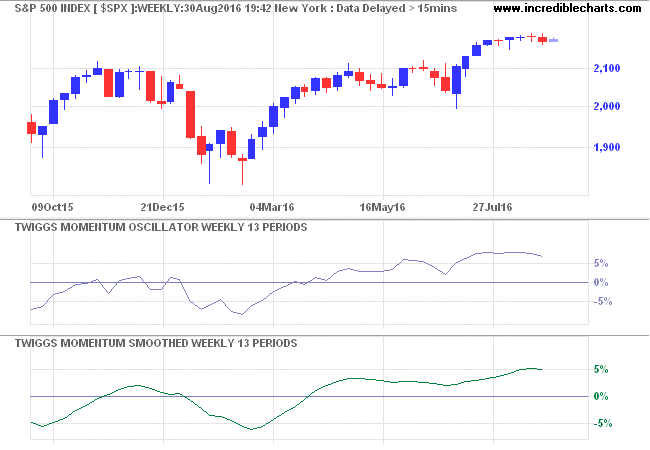 Tracking Trend Changes
When tracking trend changes, most investors are prepared to sacrifice responsiveness in order to minimize whipsaws. Here 52-week Twiggs Smoothed Momentum is used to track the primary trend on the S&P 500 index.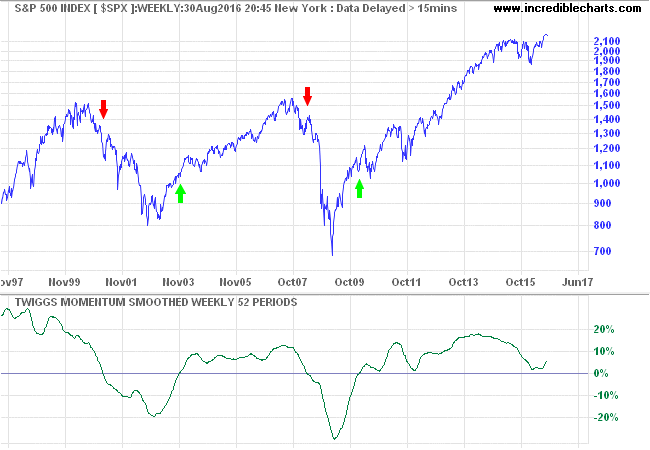 There are no whipsaws on the S&P 500 index and Dow Jones Industrial Average over the past two decades. But no indicator is perfect. There is a false in 2011 on the DAX.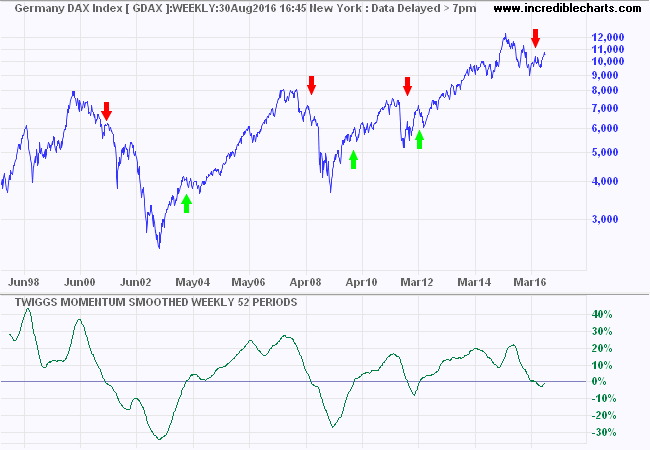 And on the ASX 200 in 2011.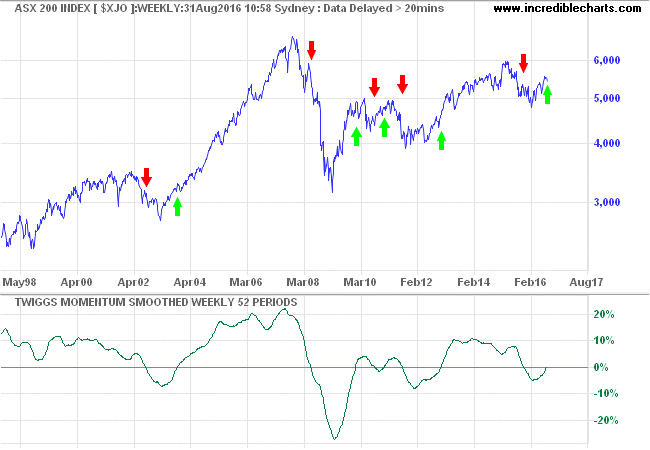 Select Indicators and Twiggs Momentum Smoothed in the left column of the Indicator Panel. See Indicator Panel for directions on how to set up an indicator. To alter the default settings - Edit Indicator Settings.
Twiggs® Smoothed Momentum Colors
Open the legend by clicking "L" on the toolbar or typing "L" on your keyboard. Adjust individual colors by selecting the color patches next to each indicator line in the legend.