Rainbow 3D Moving Averages
Rainbow 3D Moving Averages were developed by Ivan Ballin (Forum Profile: Ingot54)) as a variation of the Multiple Moving Averages of Daryl Guppy. Exponential moving averages ranging from 2 weeks to 200 weeks are plotted on the price chart using the full color spectrum. The indicator is very useful in highlighting trend changes -- when your eyes have adjusted to the array of colors.
Signals are similar to Multiple Moving Averages:
The most important signals are taken from the spacing between the Exponential Moving Averages (EMAs) in each group; not from crossovers.
When moving averages within a group are parallel and close together, the group are largely in agreement;
When the moving averages widen, this signals divergent views within the group;
When moving averages converge, this is a sign that the group view is changing.
Parallel long-term EMAs signal long-term investor support and a strong trend; and
Short-term MAs tend to bounce off the long-term MA group.
Both groups of EMAs converge and fluctuate more than usual.
A change in price direction accompanied by expanding EMAs in both groups.
The short-term group cross over, diverge and then again converge; while the long-term group remain parallel.
Example
Aquarius Platinum Limited (AQP) is shown with Rainbow 3D Moving Averages.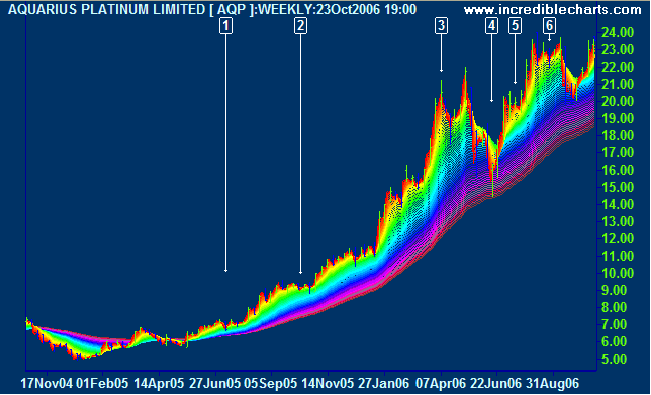 Mouse over chart captions to display trading signals.
Short-term retracement gives an entry signal (long)
Another short-term retracement
Moving averages diverge, increasing risk of a reversal
Strong retracement indicates changing short and medium term views, but long-term view holds firm
Short-term retracement signals recovery
Moving averages diverge, warning of another reversal
Select Rainbow 3D Moving Averages in the left column of the Indicator Panel. Adjust the settings as required and save using the [>>] button. The default is Weekly moving averages.