Point and Figure Charts: Cup & Handle
The cup and handle pattern was popularized by William J O'Neil (How to Make Money in Stocks) though some would also fit the definition of a large ascending triangle. Criteria for the pattern are:
It must occur in an up-trend; and
The handle should not be more than half the depth of the cup.
The cup and handle on the Australian All Ordinaries is the largest such Point and Figure pattern that I have encountered, lasting almost 10 years. The cup runs from [A] to [C] and the handle from [C] until the breakout at [E].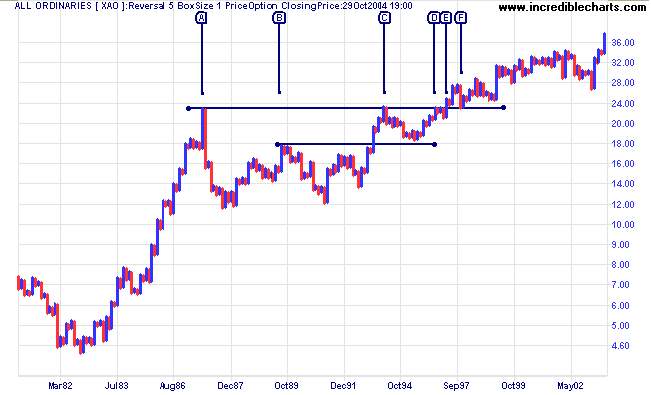 Some observations:
The handle pulls back less than half-way, to successfully test support at the mid-point of the cup [B];
There is a brief consolidation [D] to [E] below the major Point and Figure resistance level: a bullish sign before the breakout [E];
The breakout at [E] is immediately followed by an intermediate pull-back to test the new Point and Figure support level; and
A further, longer-term pull-back follows a year later at [F].