Trading Forex Trend Channels
An article (Channels in the Forex Markets by Gareth Burgess) in the latest Stocks & Commodities magazine caught my eye today. It had trend channels drawn with the lower channel in a rising trend touched by only two bars and the third touch was shown as a high touching the upper channel.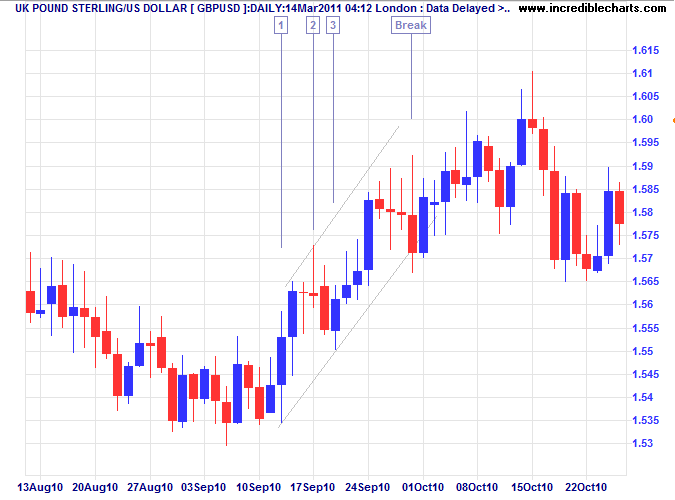 I believe that the lower trendline needs to be respected (not necessarily touched) three times for it to be valid — and that the upper channel line is merely a parallel line drawn through the highs of the up-trend; it should not be used for confirmation.
Requiring three "touches" on the lower trend channel is likely to reduce the number of false starts — although it will take longer to establish the trend channel.
I suggest that you take ignore signals where price fails to follow-through below the preceding touch-low and wait for a confirming break ([break] in the above example) below the preceding low.
Alternatively, consider using a Standard Deviation Channel: a trend channel drawn at a set number of standard deviations around a linear regression line. Often these capture trend action more accurately than simply using the lower trendline, especially when drawn through the daily lows.
On the above channel, downward breakout would only be confirmed when the day marked [confirm] falls below the previous day's low.
If you want an even wider, more forgiving trend channel, increase the number of standard deviations to 2.5 or use a Raff Regression Channel. The Raff Regression Channel draws lines parallel to the linear regression line, but through the most extreme highs or lows.