Stock Screener: Twiggs® Money Flow Trends
Twiggs Money Flow has proved invaluable in identifying buying pressure for a stock; often before price has even begun to trend.
Troughs above the zero line signal strong accumulation, while peaks below zero warn of distribution. In the example below, ASX stock Altium Ltd (ALU) signals strong buying pressure at the two green arrows, when ALU completed a trough above zero. A trough is considered complete when Twiggs Money Flow rises for at least 2 weeks.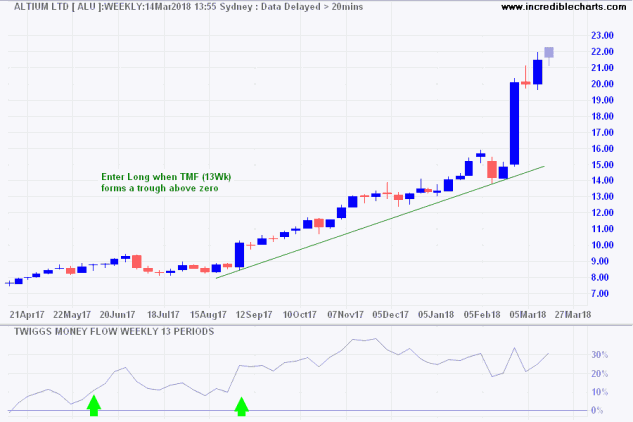 Screening for Twiggs® Money Flow
I created a stock screen to identify stocks that are likely to be forming troughs above zero.

The scan combines two filters for the ASX 200:
13-Week Twiggs Money Flow above zero for more than 5 weeks; and
An equivalent period (63-Day) New High formed in the last 5 trading days.
The idea is to capture stocks that signal buying pressure (Twiggs Money Flow above zero) and that have recently formed a medium-term New High, commencing a potential breakout.
Try the scan and let me know whether you find it useful.
The scan is available as Shared Screen #98061:
Select on the toolbar
Select the Shared tab
Search for ScreenID 98061
Select View if you want to amend the Exchange or Index (e.g. to US Stocks and S&P 500).