Market Sentiment Indicator
Market Sentiment is a new indicator especially designed to give mobile users a quick overview of past and current market sentiment.
Separate columns are displayed for Daily, Weekly, Monthly, Quarterly and Annual performance of buyers against sellers.
Signals
A green bar indicates that buyers dominated the trading period, while red shows that sellers were dominant.
The more green or red in the bar, the stronger the signal. An all green or red bar indicates strong buying or selling pressure, while a large amount of white space would suggest weak sentiment.
Strong Buying Pressure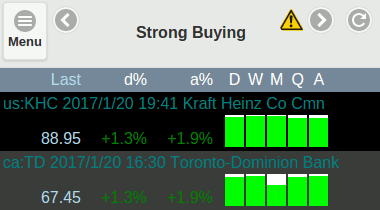 Both Kraft-Heinz (KHC) and Toronto Dominion Bank (TD) display strong buying pressure, although TD had a small correction in the last month.
Strong Selling Pressure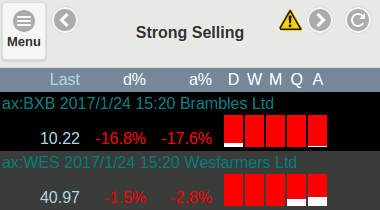 These two Australian stocks show strong selling pressure. Brambles (BXB) appears to have fared worse than Wesfarmers (WES) in the first half of the year.
Weak Buying Pressure

Evolution Mining (EVN) is close to neutral over the last year, with plenty of white spaces, but staged a weak recovery over the last quarter.
Weak Selling Pressure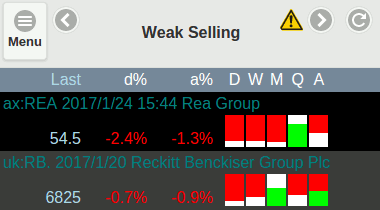 Australian Internet stock REA Group (REA) and UK consumables giant Reckitt Benckiser (RB.) are definitely more bearish but still show some green/white space in the earlier part of the year.
Neutral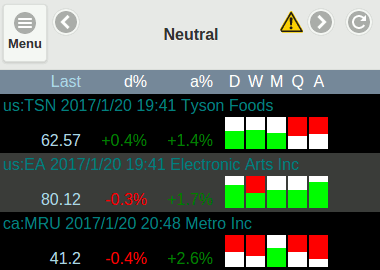 The above three all look neutral, with loads of white space, but Electronic Arts (EA) performed better than TSN and MRU over the year.
Note the neutral signal on EA's weekly column. A column with both red and green is not unusual and indicates that buyers and sellers are equally matched, strength-wise.
Rallying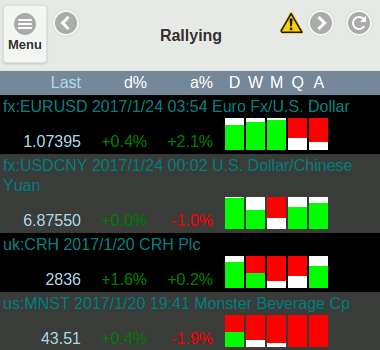 The Euro (EURUSD) is rallying against the Dollar after earlier weakness, while the Dollar shows a recent surge against China's Yuan (USDCNY).
UK Building Materials conglomerate CRH PLC (CRH) is recovering after a strong correction, while former S&P 500 high-flyer Monster Beverages (MNST) displays a weak bear rally.
Correcting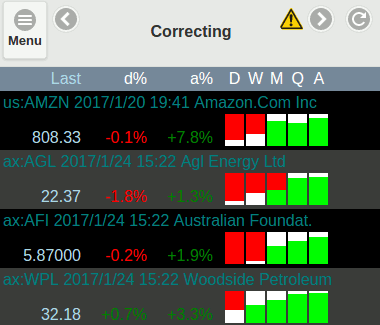 Online Retail giant Amazon (AMZN) is undergoing what looks like a normal correction, as are Australians AGL Energy (AGL) and investment stalwart AFI. Woodside Petroleum (WPL) is losing momentum but so far shows a weak correction.
Again, note the neutral signal on AGL's monthly column, indicating that buyers and sellers were equally matched.
Formula
Market Sentiment is a proprietary indicator developed by Colin Twiggs.
Time Periods
Time periods are rolling periods, measured as:
Daily - latest day's trading
Weekly - trading since the same day of the previous week (usually the latest 5 trading days)
Monthly - since same day of the previous month
Quarter - since same day of the previous quarter
Annual - since same day of the previous year