Troubleshooting
Installing
When installing Incredible Charts on your computer:
Your User Account must have Administrator Privileges
Your User Account requires Administrator privileges to install Incredible Charts.
To amend your user privileges
Home Use
Login as Administrator (or a User Account with Administrator privileges)
Select Control Panel >> User Accounts
Select the User Account that you want to change
Click Change the Account Type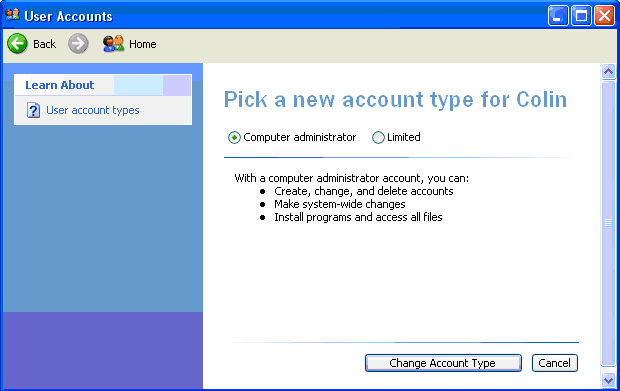 Select Computer administrator and
Click the Change Account Type button
Company Use
Ask your network administrator to amend your privileges.
Message: "Don't forget to specify LicenseFile property to save License, please !"
This is a connection problem - the license cannot be downloaded from the server.
Please follow the Connection checklist.
Message: "Timers not initialized"
This is caused by a connection problem.
Please follow the Connection checklist.
Message: Cannot show dialog "DLG_ LICENCE"
Your Windows system file, riched32.dll, may be missing or corrupt.
Check to see if the file is missing:


From the start menu choose Find >> Files or Folders.
In the Named box, type riched32.dll, and then click Find Now.
This file should be located in C:\Windows\System.
If the file is not there, extract riched32.dll from the Windows 95 or Windows 98 disk.


If the file is found, it may be corrupt:


In the list of found files, right-click the Riched32.dll file and select Rename.
Type a new name for the file (such as Riched32.xxx) and press ENTER.


NOTE: If you receive an "Access is denied" error message when you attempt to rename the Riched32.dll file, follow these steps:
(i) Click Start >> Shut Down >> Restart in MS-DOS mode and then click OK.
(ii) At the command prompt, type the following commands, pressing ENTER after each command:
cd\windows\system
ren riched32.dll riched32.xxx
exit
(there are spaces in the second line: after ren and after .dll)


After renaming the file, extract the Riched32.dll file (from your original Windows disk) to the Windows\System folder.


For information about how to extract a file, please see the following article in the Microsoft Knowledge Base:
https://support.microsoft.com/support/kb/articles/Q129/6/05.ASP


If the above is too complicated, simply re-install Windows. That should replace the existing file.