Select a Security

Select an Exchange on the toolbar
Enter the security symbol
Click the Load Security button or hit the Enter key.
You can also type the exchange code in the security field:

It is quicker to use a blank instead of an underscore (e.g. bhp ax)
Exchange codes are:
ax = Australia
ao = ASX ETOs & warrants
ca = Canada
us = US Equities & Indexes (including NYSE, NASDAQ, OTCBB & OTC Markets)
uk = United Kingdom
fx = Forex
pm = Precious Metals
cm = Commodities
ix = World Indices
You can also use the drop-down list to select recently loaded securities:

You can now set a default security via Securities >> Set Current Security as Startup Default.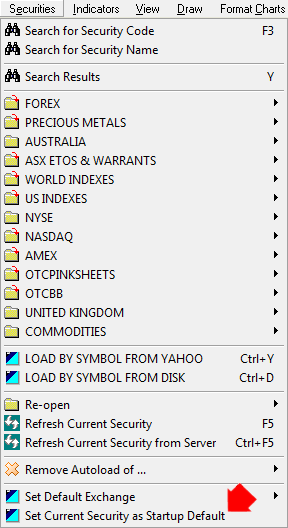 If the File >> Project Defaults >> Default Security is set, this will take precedence over the Startup Default.