Point and Figure Setup
Point and Figure charts are used to identify support levels, resistance levels and chart patterns. Point & Figure ignores the time factor and concentrates solely on movements in price: a column of X's or O's may take one day or several weeks to complete.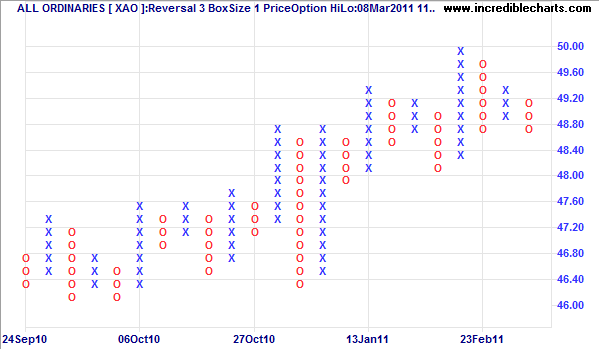 To view Point and Figure charts:
Click on the toolbar; or
Click View >> Line / Bar Types >> Point And Figure on the main menu.
The default Point & Figure setting is:
If you set up other Point & Figure styles, you can select these from:
the drop-down box next to the Point & Figure icon or
View >> Line / Bar Types >> Point & Figure on the main menu.
Open the Indicator Panel - Select Indicators on the main menu
Select Point and Figure in the left column of the Indicator Panel

Adjust the Reversal amount in the center of the Indicator Panel
Adjust the Box size
Select a price option: High/Low, Closing Price or Typical Price
Save your selection in the right column
Close the Indicator Panel
Select Logarithmic scale On/Off on the toolbar or under View on the main menu.