Importing and Exporting Files
These commands enable you to transfer your project files, with indicators, trendlines and captions, and watchlists between computers.
Project files have a .ini extension;
Watchlists have .viz extensions;
The folders can be ignored - these merely record Undo/Redo settings.
To export files to a removable disk:
Select File >> Export Files.
Scroll to the right and select the .ini and .viz files in the folder. Ignore any sub-folders.
Select a removable drive (eg. D:) to save to.
Click OK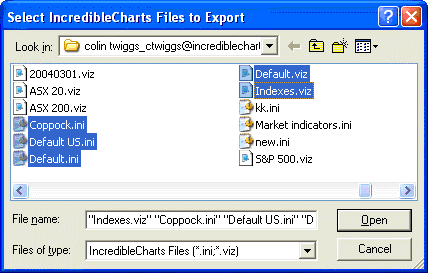 To import files:
Select File >> Import Files.
Select the drive (eg. D:) to import from.
Highlight the .ini and .viz files to import.
Click OK
It is advisable to backup your watchlists and project files on a regular basis. Use the Backup Settings function to schedule an automatic backup of your project files and watchlists.