Projects: Set Defaults
You may want to create more than one project, each with a different appearance.
Format Charts allows you to create a separate color scheme for each project;
Indicator Panel creates indicators for a specific project; and
View >> Project Defaults controls how the project opens:

On a specified security;
The time period;
Chart Interval - whether daily, weekly or monthly; and
Chart Type - whether OHLC, Candles or Closing Price.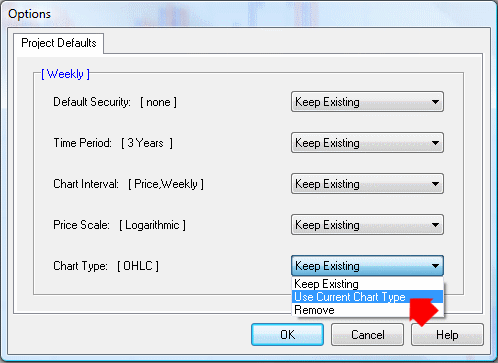 Pre-set project files are available at File >> Open Project (or on the bottom project tab).
See examples below.
Note that the daily project is called Default.
Set up a chart as you want it to appear on opening the project;
Select View >> Project Defaults or simply use the F6 shortcut key;
Existing defaults are displayed in [square brackets]


[Weekly]

at the top of the above example is the project name;
Amend the settings by selecting either:

Use Current Chart Type to create a new default; or
Remove to clear an existing default;

Click OK when completed.
Default Security
Only set this if you want the project to open every time on a specific security, such as the S&P 500. It should be left blank if you are creating separate Daily, Weekly and Monthly projects; or a specific study to be used in conjunction with other projects (e.g. Multiple Moving Averages).
Time Period
Time period can be varied from 1 Month to 10 Years or longer.
Chart Interval
Daily, weekly or monthly chart interval. This can also be used to set Equivolume or Point & Figure charts as the default.
Price Scale
Logarithmic or Normal price scale.
Chart Type
Select from OHLC, Candles or Closing Price.
Here are some of Colin's favorite project defaults:
Project:
Default*
Weekly
Monthly
PnF
PnF Index
Default Security:
none
none
none
none
none
Time Period:
3 Months
3 Years
6 Years
3 Years
3 Years
Chart Interval:
Daily
Daily**
Daily**
Box 5
Reversal 2
Closing Price
Box 1***
Reversal 2
Closing Price
Price Scale:
Normal
Log
Log
Normal
Normal
Chart Type:
Candle/Close
OHLC/Close
OHLC/Close
Notes:
* The Default project doubles as the "Daily" project file
** Colin prefers the Closing Price line graph but many will select weekly and monthly intervals
*** Use a smaller P&F box size of 1 for low volatility stocks and indices
Appropriate indicators can be added to each project.
Next: Watchlists
---
---