Chart Views
Use View on the main menu to adjust your chart view: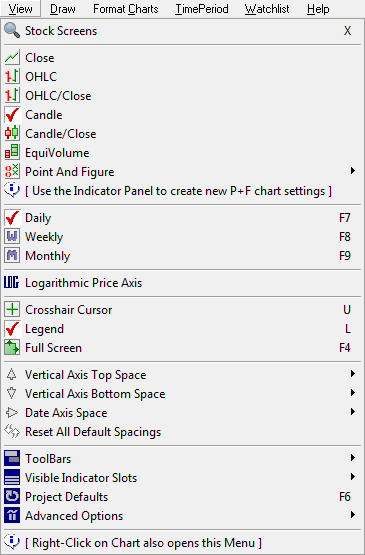 Use the View menu to change between Daily, Weekly and Monthly bars, or use the F7, F8 and F9 shortcut keys.
Drag the shared border (between the price chart and indicator/s) up or down with your mouse to adjust the relative size of the two areas.
Full Screen View can be set using View >> Full Screen View, or keyboard shortcut F4, and is not limited to the charting module. There is a button on the top menu to Restore Toolbars from Full Screen Mode:

Use View >> Toolbars to select which toolbars are displayed.
To move or re-arrange visible toolbars click

and drag the toolbar to where you want it.